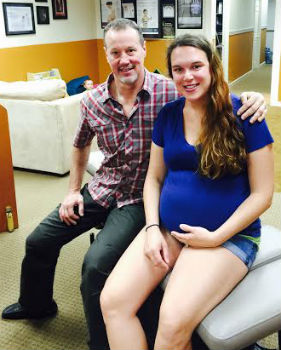 Pregnancy Chiropractic in Montclair
We're always focusing on helping mothers have a stress-free pregnancy as mom's health can affect baby's health. We'll help create a positive, environment of ease so that when your delivery happens, things go as you planned and are as noninvasive as possible.
Specialized Care for Pregnant Mothers
Technique: The Webster technique is beneficial for pregnant women as it helps align their hips and pelvis. This alignment provides baby with the room necessary to move into the natural birthing position for a natural delivery.
Tables: We have special tables for pregnant women that women love as they can lie on their stomach comfortably with their growing belly.
Networking for Incredible Support
We have a terrific network of trusted professionals, including obstetricians and doulas we can refer you to if you're looking for guidance. If you are interested in husband-assisted birthing, we'll refer you to our network of birth coaches.
Dr. Scott is available and supportive throughout your entire pregnancy and delivery. He's adjusted many newborns soon after being born! Contact us today to learn more about how Dr. Scott can help your pregnancy and newborn.
CONTACT US »
---
Pregnancy Chiropractor Montclair | (703) 580-8388